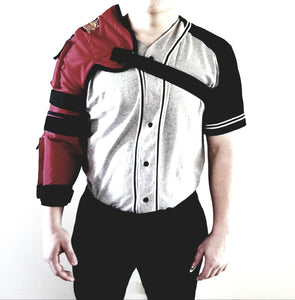 Pitchers Arm Care Routine
Pitchers arm care routine to help reduce the risks of Injury
 There are a lot of opinions on strengthening a Pitchers arm, mechanics, and nowadays pitch counts.  What is never talked about is arm care during the season.  Whether you are a starter and pitch every 5th day or reliever and pitch 2-3 times a week,  almost everyone knows to Ice your arm after you pitch but that's it, some say to Ice the next day too.  That is the last thing you want to do,  Ice helps after you pitch to stop the inflammation by constricting blood flow to the area.  Heat is what is important for the recovery of the muscle fibers, ligaments, and tendons.  Below I will show you all the benefits of heat and when to use it.
Use Arm warmers before warming up   (warm up to throw-not throw to warm up)  Before you begin to stretch or use your arm bands, use the arm warmers for at least 10-15 minutes and find how much easier it is to get loose.  Heat soothes and softens tissues, increases blood flow, relaxes muscles, ligaments, and increases flexibility.
Use Between Innings Putting on a cold jacket has a negative effect on the arm, it will take a few minutes for the body heat to regulate and begin to warm the arm.  This is what begins the tightening of muscle fibers and ligaments.  Using the arm warmers keeps a constant deep penetrating heat to the shoulder and elbow, keeps blood flowing and keeps the muscles, ligaments, and tendons loose and flexible.  This also helps with fatigue to pitch deeper into the games. I have been asked about using the arm warmers during the warm summer months, and the same rules apply. As a warm sweaty arm has a cooling effect and is the body's natural way of cooling down, exactly what we are trying to avoid.
Use of arm warmers after the game Ice is recommended immediately after the game to reduce Inflammation, every day after it is recommended to use the arm warmer for 20-30 minutes per day.  This will open blood vessels, loosen muscles, tendons, reduce pain, and bring in the nutrient rich blood that begins the healing process.  It allows you to then begin to do your stretching and arm strengthening routine much easier, to be ready to pitch again as soon as needed.
Follow these steps during the season Just like we have our pitchers do conditioning, strengthening exercises, and lessons for proper mechanics.  Arm care during the season is the final piece to help reduce Injuries and give our pitchers every chance to succeed.
For more Information and to place orders go to www.hotbatsports.com
---